Safety
SAFETY FIRST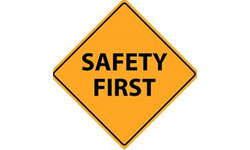 Reliable Crane Service is OSHA compliant and our certified cranes are operated by licensed operators.
Safety begins before the cranes leave the yard. Our operators go through a daily crane inspection before they move our cranes. Our fleet is inspected annually by third party certified inspectors, and our mechanics maintain a rigorous OEM maintenance plan on all machines.
OUR OPERATORS ARE NCCCO AND MA HOISTING LICENSED
Our operators have a current NCCCO and MA Hoisting License. NCCCO is officially recognized by federal OSHA as meeting OSHA and ANSI (ASME) requirements for crane operator, rigger, and signalperson qualifications. Licensed operators must pass a general and crane specific written exam, a practical exam on the specific type of crane and complete continuing education to maintain their licenses. All operators are licensed and skilled in multiple cranes. Workplace safety is improved by having a licensed, knowledgeable and skilled operator.